Around Saia
This month's Around Saia features many stories on the generosity of Saia employees during this holiday season. There are slideshow photos from all around Saia on the 2018 Toys for Tots campaign and Wreaths Across America. Also featured are stories and a photo on the generosity of LAF City Driver Herbert Mickens, a story and photos on the Saia sponsorship of the Big Brother, Big Sisters Party in southwest Idaho, and a story and photos on the TUP terminal employees' food drive.
2018 Toys for Tots Campaign a Success
As you all know, Saia again partnered with Toys for Tots as one of the organization's 2018 corporate sponsors. As such, the company made a $25,000 donation to the charity as well as conducted an internal toy drive at each one of our terminals and offices.
While we don't have an official toy count yet, we know the initiative was a rousing success. As such, we want to share some of the photos that have been sent in and thank everyone for their generosity.
We sincerely appreciate your support. Toys for Tots is a great organization and we are extremely proud to be associated with this cause.
Generosity of LAF City Driver Shines Bright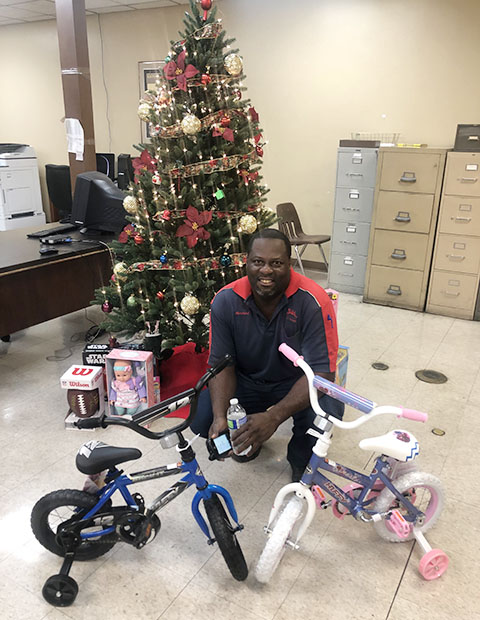 LAF City Driver Herbert Mickens was next up to be cut when Central Dispatch called the terminal and asked if an employee could make a run to the ALX facility and back. LAF Terminal Manager Craig Bordelon called Herbert to ask if he could make the run, to which Herbert said yes.
Craig said when Hebert returned, he took the money from his run that day and bought two bikes to be donated to the Toys for Totes program. "How generous was that?!?" stated Craig. Very generous, indeed. Thanks Herbert! Happy Holidays!
Wreaths Across America

Saia Employees Lay Wreaths Around the Country

Almost 3,000 Saia employees, family members and friends took part in wreath-laying ceremonies at veterans' cemeteries located across the country. Employees commented on how touching and inspiring laying the wreaths and paying their respects to our fallen military heroes meant them.
Saia would like to convey a sincere, heartfelt "thank you" to everyone who took part in this initiative. Additionally, congratulations to the terminals who will receive a cookout from the Human Resources Department for having the highest percentage of volunteers:
EVA – 50 percent
ALN – 48 percent
CCI – 44 percent
AUS – This terminal had the highest number of employee volunteers – 25. ALN was second with 20.
Congratulations and, again, a special thanks to the employees at the terminals above, as well as throughout our network, for helping to grow our partnership with Wreaths Across America and serve such a worthy cause.
Saia Sponsors Big Brother, Big Sisters Party

Big Brothers, Big Sisters of Southwest Idaho recently held their annual holiday party for their volunteers and the children they mentor. According to CEO Emily Johnson, the event was a great success and they appreciate Saia sponsoring the party this year. "We really, really appreciate it," expressed Emily.
Employees Hold Food Drives

Employees at Saia's TUP terminal participated in a local food pantry drive. Additionally, employees in the Accounts Receivable Department at the HGO also conducted a food drive to benefit the Terrebonne Churches United - Good Samaritan Food Bank. Way to go!